Product Name: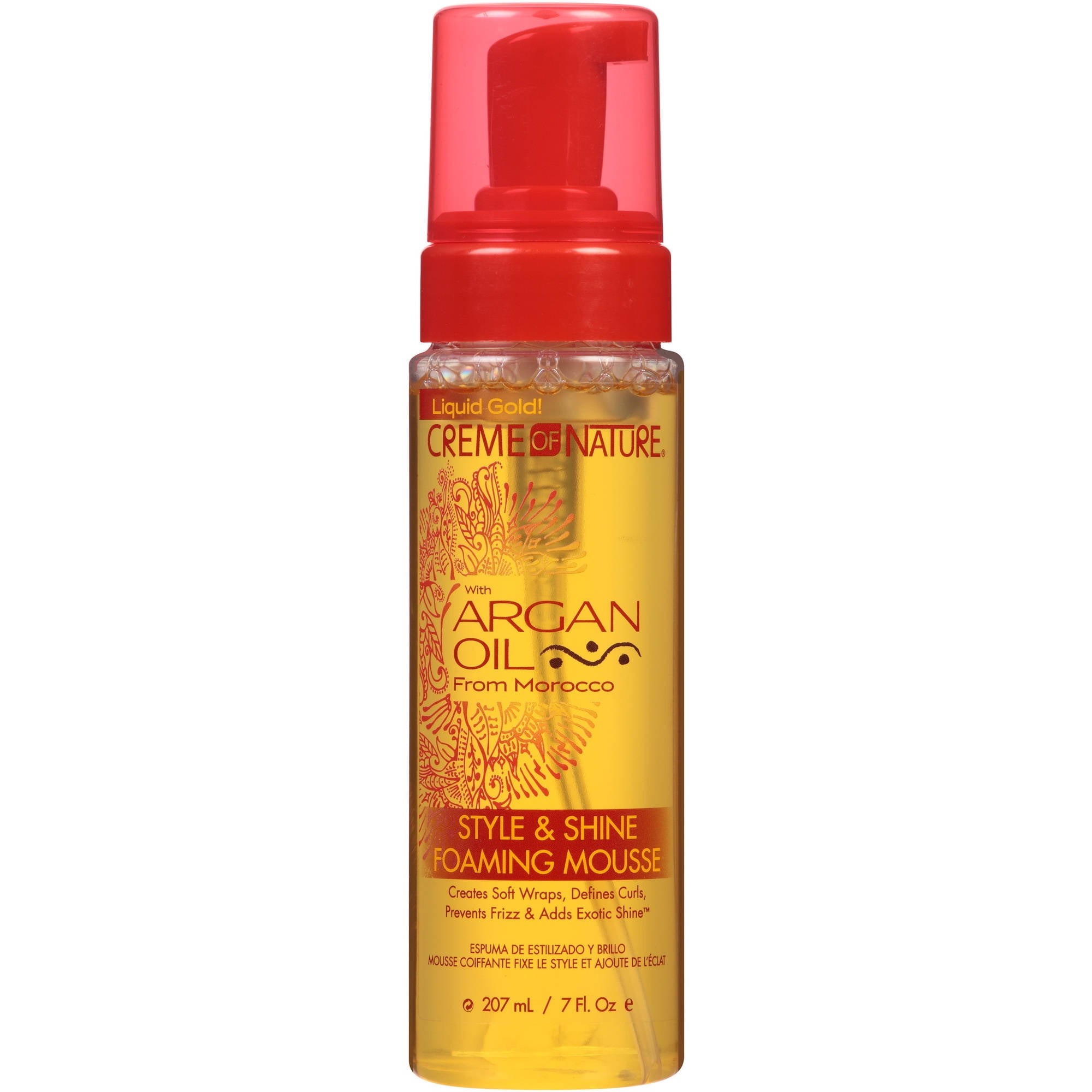 Crème of Nature with Argan Oil Style and Shine Foaming Mousse Product Review (Foam Mousse)*

Price and Size:
Product Description:
Style and Shine Foaming Mousse is a uniquely formulated liquid gold mousse that is perfect for styling natural and relaxed hair. This nourishing formula, infused with Argan Oil from Morocco, moisturizes and nourishes the hair, and instantly imparts Exotic Shine™ while reducing frizz. Great for creating defined natural curls, spiral sets and full-bodied wraps.

Product Benefits:
Defines curls, gives hold for twistouts
Leaves wraps soft and full of body
Moisturizes dry, brittle hair and prevents frizz
Instantly imparts Exotic Shine™
Infused with Argan Oil from Morocco
Package Instructions:
FOR CURLS: Apply foam liberally to towel dried hair from roots to ends for definition.
Allow hair to air dry or diffuse.
FOR SETTING/WRAPS: Wrap, mold, or set hair. Style as usual.
Follow with any Creme of Nature Argan Oil styling product.
PRO TIP: Use this product for styling natural hair and creating well-defined Wash-N-Go and Twist Out styles on all hair lengths. Great for use on tightly coiled, curly and wavy hair textures.
Ingredients:
Aqua (Water) (Eau), Cocamidopropyl Betaine, Polyquaternium - 11, PEG-40 Hydrogenated Castor Oil, PEG-40 Lanolin, Argania Spinosa Kernel Oil, Mel (Honey) (Miel), Olea Europea (Olive) Fruit Oil, Cocodimonium Hydroxypropyl Hydrolyed Wheat Protein, Aloe Barbadensis Leaf Juice, Parfum (Fragrance), Phenoxyethanol, Methylisothiazolinone, CI 19140 (yellow 5), CI 14700 (Red 4)
Cocamidopropyl Betaine (coconut oil derived)
Polyquaternium - 11 (anti- static)
PEG-40 Hydrogenated Castor Oil (thickening conditioner)
PEG-40 Lanolin (moisturizing lubricant)
My Experience:

Check out my full flexi rod experience!
I clarified my hair with my
Mud Wash
and fully
deep conditioned
before styling my hair. Then I start
detangling
and styling my hair while it is damp (used a t-shirt to plop my hair). To do any rod sets, I use my Denman brush to make sure that my hair is fully detangled and sleek. Then I add my
leave-in
and the Foam Mousse to the detangled section, lightly. I use the purple perm rods to curl my hair. Once my entire head is done, I allow my hair to air dry (at least 4 hours or overnight). In the morning and once I feel that my hair is dry, I gently take my perm rods out and style my hair.

My Own Thoughts:
It has a soft hold, my curls are shiny, and my hair is bouncy. My style would last for about 3-4 days when I put my hair in

4 pineapples

. The Foam Mousse smells very richly with Argan Oil, which I don't mind at all.
Now the ingredients are not too bad (other than the added colors), but they look pretty good.
I add my leave-in with the Foam Mousse to help with the moisture, styling, and I love the combination of the two products. My hair smells like a fresh fruit and perfume basket. This also works great on dry hair (with a bit of water and leave-in) so you don't have to go to bed with a wet set.
This product does have a strong perfume-like smell that lingers and one that I don't like. But at such a low price, it's okay for me to use every once in a while. A little definitely goes a long way.
I RECCOMEND THIS PRODUCT!
Have you tried the Foam Mousse? What did you think about it?
More Products From Crème of Nature:
Natural hair says: search for the products that are the best for your hair type and texture. Make sure to do your research when searching for products...especially when the line changes. But if your hair loves the product, make it your 'tried and true.'
Always Desire Your Natural,
Christina J
*Crème of Nature with Argan Oil Style and Shine Foaming Mousse was purchased with my own money and this is my honest opinion.