I absolutely love the
Mud Wash
, but I thought I try a sulfate-free shampoo to cleanse my hair...
Product Name: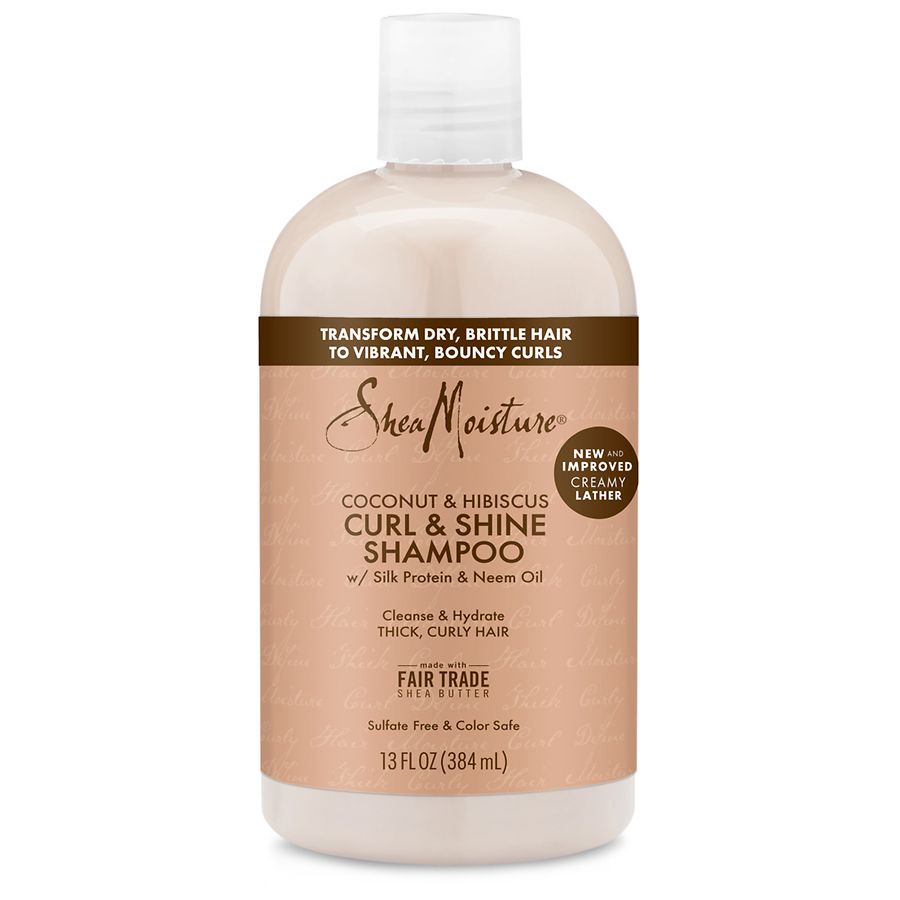 Shea Moisture Coconut And Hibiscus Curl And Shine Shampoo

Product Review

(Curl And Shine)*
Price and Size:
Product Description:
Shea Moisture's Coconut And Hibiscus Curl And Shine Shampoo for thick, curly hair gently cleanses, hydrates and detangles hair for bouncy and healthy curls. Sulfate-free. - Made with natural and certified organic ingredients.
Package Instructions:
Apply to wet hair and gently massage into a rich lather. Rinse thoroughly. Repeat if necessary.
Ingredients:
Deionized Water, Decyl Glucoside (Sugar Beets),

Cocos Nucifera (Coconut) Oil

, Butyrospermum Parkii (Shea Butter), Aloe Vera Leaf Juice, Vitamin E,

Melia Azadirachta (Neem) Seed Oil

, Sodium Lauroyl Lactylate (Coconut Oil), Panthenol (Vitamin B-5), Rosemary Extract,

Silk Protein

, Proprietary Essential Oil Blend, Guar Gum, Stearic Acid, Lonicera Caprifolium (Honeysuckle) Flower (and) Lonicera Japonica (Japanese Honeysuckle) Flower Extract, Hibiscus Flower Extract.
Featured Ingredients:
Coconut Oil

hydrates and protects hair while reducing breakage
Silk Protein

smoothes hair for a soft, silky feel
Neem Oil

controls frizz while adding brilliant shine
My Experience:
I usually cleanse my hair once a month (co wash weekly), so that's how I used the Curl and Shine. I

pre poo'd with coconut oil

(and detangled) before washing. I had my hair in 4 twists for washing and massaged my scalp with the Curl and Shine for a few minutes then allowed the water to run the shampoo down my twists. I squeezed the shampoo in my twists to cleansed, took my hair out of the twists to allow the water to give a final rinse, then prepared to deep condition my hair.
My Own Thoughts:
This is definitely not the shampoo for me!
I used this shampoo three times and the results were always the same: my hair felt like straw, it was really tangled, and it looked so dry. The Curl and Shine also had way too much "sudsy" action for me. I'm used to my clay wash and the subtlety of it...this shampoo really laid it on thick (pun intended) which made it seem like it was not sulfate-free what so ever. Just saying...I don't like the suds. Although the smell got me hooked in the first place to purchase, this shampoo is just not worth it to me.
Of course, I'm not happy with the ingredient line up because the featured ingredients aren't in the top 5 (which I'm strict about), but I thought I give it a try. Yea no...this shampoo is not for me at all.
I really wanted to like this product, but I'm going to try another sulfate-free shampoo.
I Would NOT Purchase This Again!
Have you tried the Curl And Shine? What did you think about it?
Natural hair says: search for the products that are best for your hair type and texture. Make sure you do your research when searching for products. If you hair loves the products, make it your 'tried and true.'
Always Desire Your Natural,
*Shea Moisture Coconut And Hibiscus Curl And Shine Shampoo was purchased with my own money and this is my honest product review.