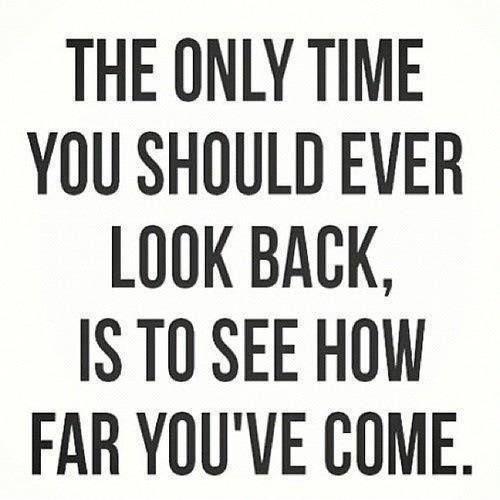 My Hair Diary | Looking Back On My Hair Journey From 2012 - 2015

The quote above can describe anything from motherhood to growing spiritually and just about anything in life. Sometimes we forget on far we have come, even if it's just an inch - that's still moving forward.
During the end of the year, I usually read over the yearly Hair Diary to see what the year was like for my hair. I note the best and worst styles, products to keep and lose, my emotions and feelings, and create the next year's goals based on my mistakes and errors. This year I decided to do something different.
I decided to read my Hair Diary from beginning in 2012 all the way to the end.
I wanted to see how far I have come in my hair journey and what I needed to work on for the upcoming year. What I read was so enlightening:
2012: Had Enough and Starting Fresh
Looking Back On My Hair Journey From 2012 - 2015
At the beginning of the year, I felt like NO ONE could do my hair...On April 1, 2012, I had an epiphany! "What if I just learn how to care for my own hair?" I decided not to get any more relaxers nor color touch ups ever again (plus I had no money in college). I did not have the courage to big chop and my family was surely against it; so, I tapered the back and left a few inches on top. I decided to transition.
On October 1, 2012, I trimmed the last of the relaxed hairs and looked at myself in the mirror…wow…I'm natural! Now I'm on the right track for my hair journey!
Oh yes, I worked it out! I didn't really have much of a hair dairy back then. Now looking back in my 2012 hair diary, transitioning helped me to be patient about my hair. I can't expect to be a prima ballerina if I don't practice how to plié first. I decided that I should write in my Hair Diary every 2 weeks just to note how I'm doing on my hair journey...and I still write in my hair diary ever 2 weeks.
2013: New Me! New Naturalista!
Looking Back On My Hair Journey From 2012 - 2015
I began to learn more about products and how to care for my hair the proper way. The products I used were:

coconut oil

and olive oil for pre-poo, Suave Clarifying Shampoo,

ApHogee Two Minute Reconstructor

, Shea Moisture Shea Butter Masque, Giovanni leave-in conditioner and As I Am leave-in conditioner, Elasta QP Mango Moisturizer,

Cantu Leave In

, and Grapeseed oil to seal. I would massage my edges with lavender and rosemary essential oil. I also used a

Flaxseed Gel Mist

to moisturize my hair daily.
I'm so happy about my TWA, but I messed up all my progress by getting a
partial sew-in
because I wasn't sure what styles to do with my hair. So I got my edges permed...but a few months after that style, I cut the permed edges. They grew back quickly. I love being natural and I'm choosing to continue on my natural hair journey.
Looking Back On My Hair Journey From 2012 - 2015
I also learned that protective styling is great for length retention and to not over-manipulate the hair. So

Senegalese Twists

were a favorite of mine to keep from 6-8 weeks, which I got done about 6 times this year. I began to learn more about

flat twists

and added this technique to my styles as well.
I retained 1 inch every 4 months, which gave me 4 inches in a year. I could def see a difference in the health of my hair!
2014: The Kitchenista Naturalista
Looking Back On My Hair Journey From 2012 - 2015
This year I wanted to get more help from the natural hair community, so I began to watch more YouTube videos of hair journeys, natural hair tips, and products to try. I got most of my styling options from YouTube as well. I subscribed to many channels that could be my hairspirations (

Naptural85

,

MahoganyCurls

,

Alicia James

,

Millicent Swift

,

Chime (HairCrush)

, etc.) and I also read more blogging information (

UrbanBushBabes

,

KinkyCurlyCoilyMe

,

Natural Hair Rules

,

Black Naps

,

Black Hair Information

, etc.). I wanted to be well informed and equipped to continue on my healthy hair journey.
With most of my ideas from Naptural85 and Urban Bush Babes, I began my

kitchenista journey

of creating my own hair products. I wanted to know exactly what was going in my hair and this helped me to save more money. I created: water mists, shea butter crèmes, deep conditioners, hot oil treatments, henna treatments, tea treatments, ACV rinses, and more. My bathroom and kitchen literally became my chemist lab! I absolutely loved creating my own hair products for my hair health.
I also discovered

finger detangling

and rarely used my wide-tooth comb/Denman brush. Since I found out my hair was fine, I needed to finger detangle to be more gentle with my hair...which helped me come across the

Castor Oil Challenge

(which I still do on my own). I began to do more creative styles with my natural hair,

crochet braids

, and Senegalese twists (that I can do myself). I was very happy with how my hair journey was looking from the pictures I took.
I had so much information on my computer and notebooks that I felt like I wanted to share my information with whoever is looking and needing it. So I created "Desire My Natural" to be my public hair diary and to hopefully inspire others on their healthy hair journeys.
Then it happened...I got my hair

flat ironed

for a wedding, which resulted in

heat damage

! *sigh* an inch from BSL and I got heat damage.
...but I didn't know I had heat damage until September 2015...
2015:
Looking Back On My Hair Journey From 2012 - 2015
Shed, shed, shed! This is all I experienced for 9-10 months!!! I literally was having excessive shedding issues to where I thought I was becoming terribly sick. I would do shedding treatments (

garlic

,

black tea

, and

green tea

), which all helped in their own ways. However, my hair would continue to shed terribly. I changed my health diet by drinking more water, meditating to relieve stress, eating healthier, and making sure I exercise (modern dance and cardio) regularly...but my hair was still shedding crazy.

So I decided to try product and styling changes. I purchased more protein-based products (Tea Tree Tingle, henna, ApHogee, etc.) and did more protective styles for weeks at a time. And of course, I had shedding after taking out my styles...I had enough shed hair to make a wig for another. My natural styles were getting thinning and thinner and detangling sessions were absolutely terrible.
Around the end of September 2015, I had mini twists that look irregular. The top of the twists were plump and shiny, while the bottom of the twist were limp and lifeless. So I decided to cut an inch off one of the twists and did a porosity test with water. Lo and behold...my hair was at high porosity. No wonder my hair would not hold moisture and my hair would tangle badly. My hair cuticles were way open! I measured the "pump and healthy" parts of the twists, which measured out to 5.5 inches...which would date back 10 months ago...
I was caring for heat damaged hair for almost a year!!! I promise I thought I had a certain hair texture, but I was absolutely wrong. At this time I'm not regretful nor depressed with myself (I did have to Woo-Sah once or twice), but relieved. Now I know why my hair was shedding for such a long time...so I cut all heat damage out a week later, which was about 2-5 inches (some 6 inches). This became my big chop #2!

For the few last months of 2015, I continued with my healthy hair regimen and protective styles. Guess what! I had no excessive shedding!! I'm just saying coming off of relaxed edges for a partial sew-in in April 2013 to long-term heat damage in November 2014, I can now say that I'm on the right track of healthy hair and definitely stronger than before.
Conclusion
This is why it is so important to keep a hair diary with pictures. You can learn lots from others through YouTube and blogs, but you can understand so much more from your own documentary of your hair.
From past entries, I have learned that doing what's best for my hair IS what's best for my hair. Since cutting off my heat damage, I feel like I'm starting over with my hair journey. However, this time I'm going into my hair journey with further knowledge about my own hair and how to properly care for my hair. I'm so excited about my journey!
Click to start your own

hair diary

!
Natural hair says: learn to inspire yourself on your healthy hair journey and you will be completely amazed.
Always Desire Your Natural,