Scalp massaging is a great way to promote growth and to increase the blood circulation to make the roots stronger. This is one of the best ways to add to your hair care regimen for your healthy hair journey.
I have seen a lot of YouTubers advocate for this, so I was instantly intrigued! I have never used a scalp massager before, because I was always content with using my

fingers

for a scalp massage. I thought I would treat myself to the Scalp Invigorator From Vanity Planet, since the

reviews

were pretty good. Let's see how this goes:
Product:
Scalp Invigorator


Price:
Product Description:
The Scalp Invigorator by My Life My Shop offers the benefits of deep cleansing and relaxation all in one device. The Scalp Invigorator's gentle rubber tips deliver shampoo to the hair while breaking apart and lifting away dead skin cells, dirt, oil, and shampoo residue that builds up over time.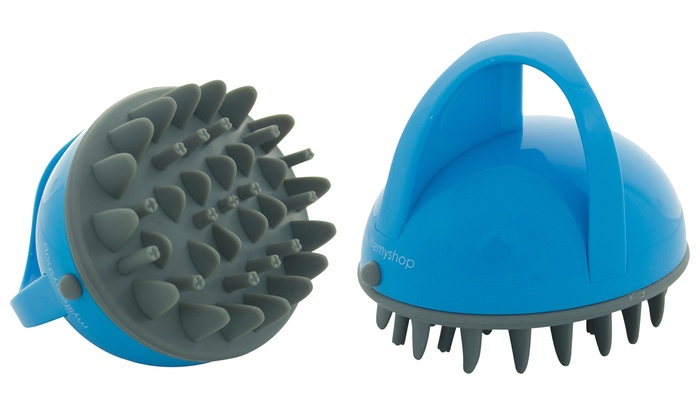 Scalp Invigorator From Vanity Planet
Key Benefits:
Massages and invigorates the scalp
Exfoliates the skin and removes dead skin cells
Helps to control dandruff
Encourages overall scalp health
Product Includes:
Battery Powered Scalp Invigorator (2 AAA batteries included)
Warranty: Warranted to be free of manufacturer's defects in materials or workmanship for two years from the date of purchase. Damage or wear resulting from an accident, misuse, abuse, commercial use, or unauthorized adjustment and/or repair are not covered under this warranty.
Water-Resistant Device, do not submerge in water.
Product Instructions:
To use, hold the device so that the rubber bristles face away from you and then press the "On/Off" button to activate vibration. For ease of use and better manual control, rest the handle between your index and middle finger.
Apply shampoo, conditioner, or just water to the hair and gently rub the soft, rubber tips on your scalp.
Rinse hair and repeat as desired.
Press the "On/Off" button to deactivate vibration after use.
Scalp Invigorator From Vanity Planet
My Experience:
I would use my scalp invigorator 3 times a week for about 5-7 minutes, on 4-5 sections of my scalp. I would either leave the scalp invigorator on my scalp or would move it a bit for more massaging benefits.
My Own Thoughts:
Honestly, I thought this was a waste of money for me.
I did like the feeling of the scalp invigorator on my scalp....however, after using this for a few minutes, I would put this down and use my fingers instead.
I did not like the fat, rubbery bristles nor did I like the hassle of having to bring this out for my massaging time.
I'm not a real fan of this massager and ended up giving this to my baby...which I have no idea where it's at now.
Have you tried the Scalp Invigorator? What did you think about it?
Natural hair says: Make sure you do your research when searching for products. Not all products should be purchased because the reviews say, "OMG! You should purchase this..."
Always Desire Your Natural,
*This is a product review for Scalp Invigorator, which was purchased with my own money and is my honest opinion

.